Forty-five members of human rights council warn Hun Sen is presiding over an increasingly authoritarian regime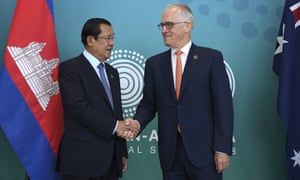 Australia has joined 44 other nations at the UN human rights council in condemning growing political violence and repression in Cambodia ahead of elections there this year.
Hun Sen, Cambodia's strongman leader, was in Sydney last weekend for the Australia-Asean summit and met the prime minister, Malcolm Turnbull. It is understood the pair discussed human rights issues and the upcoming elections, as well as trade and the region's nuclear threats.
But Australia maintains a controversial and expensive refugee deal where it sends refugees from its Nauru offshore processing centre to Cambodia, despite concerns over widespread human rights abuses in the south-east Asian country.
Hun's presence in Sydney sparked significant demonstrations on the streets of the city, with protesters condemning him as a "thug" with "blood on his hands".
In Geneva on Thursday morning Australian time, the 45 members of the 47-member human rights council said Cambodia had made significant democratic progress since the signing of the Paris peace agreement in 1991 ending the country's civil war. But it had regressed in recent years, growing increasingly violent and authoritarian.
"As we near the elections scheduled for 29 July this year, our previous optimism has been replaced by deep concern about the recent serious decline of civil and political rights in Cambodia. These backward steps include signs of escalating repression of the political opposition, civil society and media," the countries said.
"For the Cambodian government to retain its legitimacy, any elections must be free, fair and credible."
Hun, a former Khmer Rouge cadre, has ruled Cambodia for more than 30 years. He has been credibly accused of large-scale corruption, enriching his family and cronies, as well as corruption of the criminal justice system, and sustained violence against and persecution of his political enemies.
Read the full article here