Wodonga: National RAR Conference 2018
First option has been offered to RAR members. April 6-8, Albury / Wodonga. Book in now!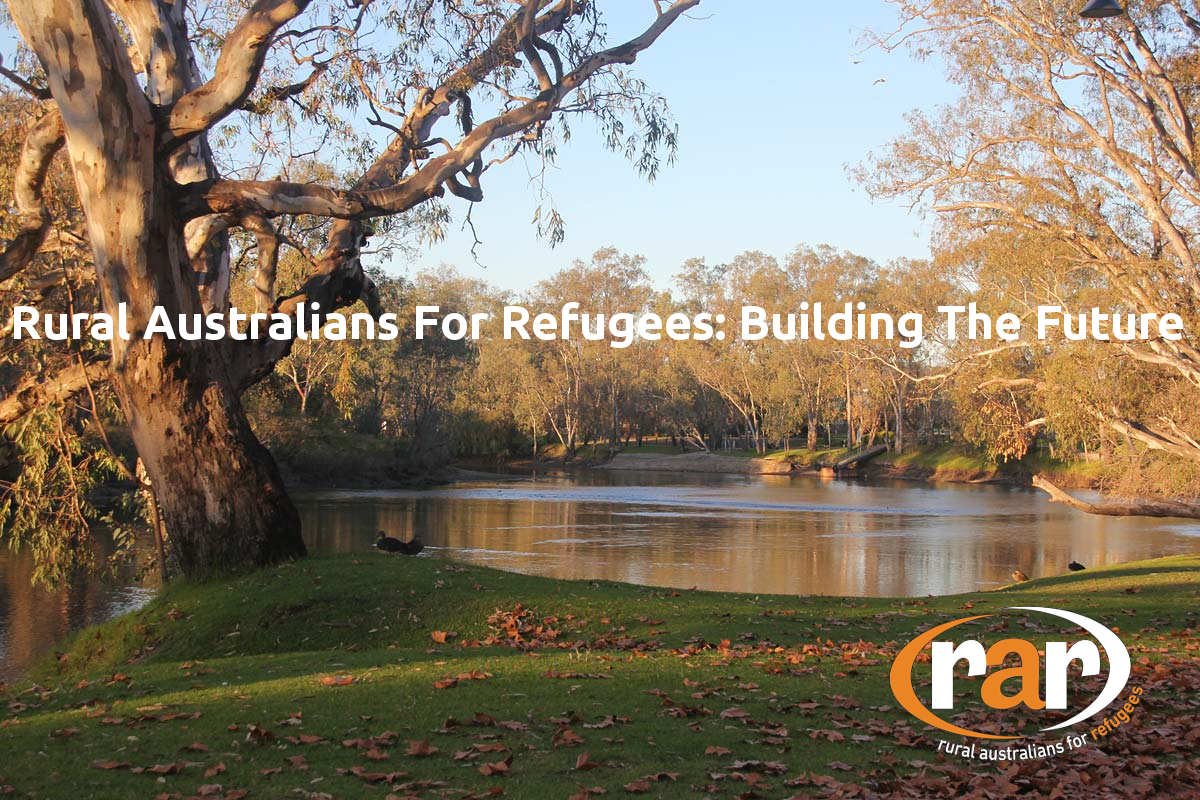 Friday
Registration at Wodonga Catholic College, 1 Bowman Court, Wdonga from 3.00pm
5.00pm Interfaith Service – St Mathews Anglican Church, Kiewa St, Albury
7.00pm Dinner – Wodonga Racecourse, Brockley St, Wodonga
Emeritus Professor Gillian Triggs – An Australian Bill of Rights.
Saturday
8.00am Registration – Light breakfast available
9.30am Welcome to Country, Mungabareena Dancers
10.00am Madeleine Gleeson – Stepping into the Future
10.30am Workshops – Communities Working Together
Rural Resettlement
Key to successful Campaigning
Welcoming Refugees
Home Hosting
11.00am Morning Tea
11.30am Saba Vasefi – The Challenges Faced by Vulnerable People … sharing the message
11.45am Corinne Grant – Getting a Message Heard … educating the public
12.10 pm Workshops – Effective Use of the Media
Social Media
Media in Regional and Rural Communities
Supportive Communities sharing Knowledge
The Power of Story Telling
1.00pm Lunch
2.00pm Julian Burnside – A Voice for Youth for a Positive Future
2.15 pm   Debate – Secondary Colleges of Albury Wodonga – A Refugee Could be You or Me
Moderated by Julian Burnside

3.15pm Coffee
3.45pm Workshops – Supporting Young Australians
Involving Young Australians
Involving Young Refugees and Asylum Seekers
Youth Campaigning for Change
The Future We Want for Our Kids
4.30pm Report Back
5.30pm Meeting of facilitators to agree on key workshop priorities
6.00pm Casual Meal at College
SUNDAY
8.00am Breakfast and breakfast meetings
Discussion re  incorporation and Insurance
Non Violent Action
Discussion on World Refugee Problem and the role of Rural Australia
9.15am A Compassionate Country
9.30am Emeritus Professor Stuart B Hill – Transformational Thinking, Planning for the Future
10.00am Professor Susan York Kneebone – Refugee Settlement
10.30am Coffee
11.00am  Positive Engagement with Politicians
11.30am Summary of Conference and Future Actions – Questions, statements from participants … What we have heard, what we will do
12.30pm Tampa Award
1.00pm Casual lunch
2.30 pm AGM Rural Australians for Refugees
Conference Summary … Next Steps
---
---
CONFERENCE ACCOMMODATION
Albury Visitor Information Centre   1300252879  
For discounted rates:
Quest Wodonga, Reid Street, Wodonga  (02)60438300  
CABINS
Big 4,  65 McKay Street, Wodonga.
Wodonga Cabin and Caravan Park
Borderland Caravan Park
Accommodation will be available at Latrobe University and Wodonga TAFE in 2018.
TO RECEIVE A DISCOUNTED RATE AT ALL THE IDENTIFIED ACCOMMODATION MENTION THAT YOU ARE ATTENDING THE RURAL AUSTRALIANS FOR REFUGEES CONFERENCE