Albury/Wodonga: National RAR Conference 2018
6 April 2018

-

8 April 2018
The Trybooking site has now closed 
For late BOOKINGS please contact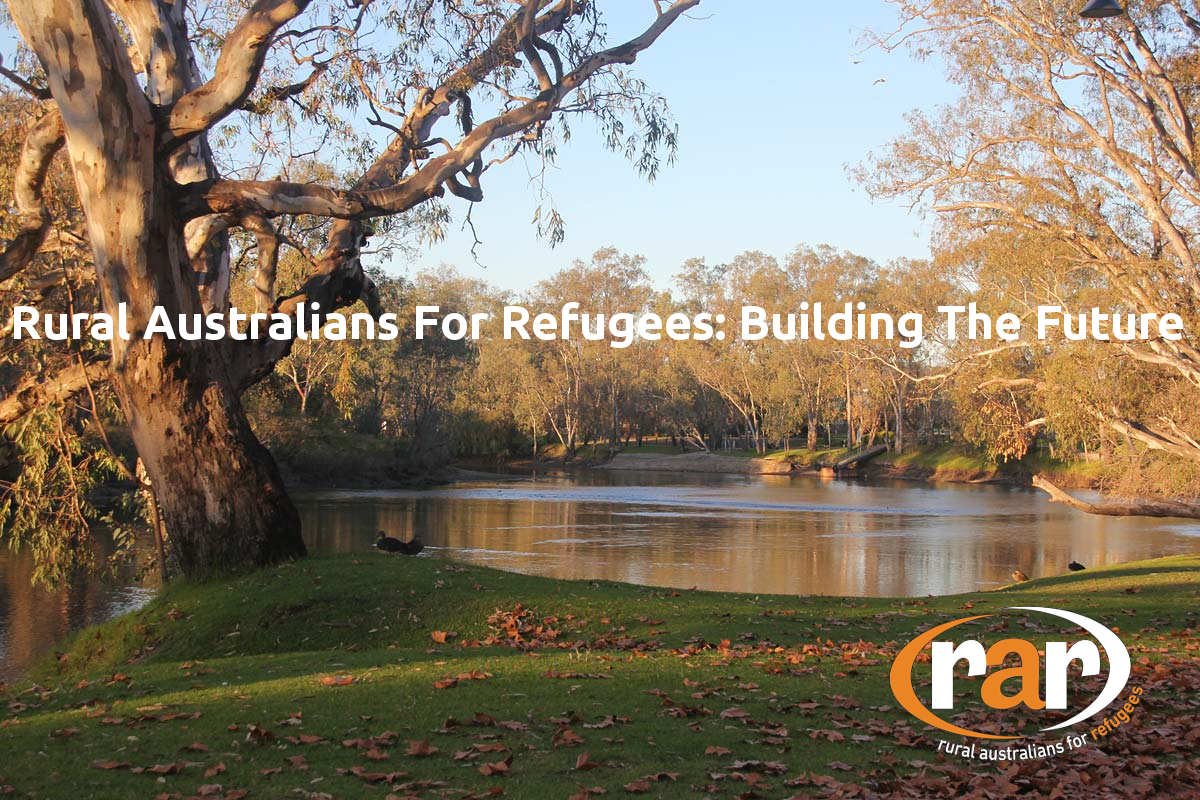 Friday
Registration at Wodonga Catholic College, 1 Bowman Court, Wdonga from 3.00pm
5.00pm Interfaith Service – St Mathews Anglican Church, Kiewa St, Albury
7.00pm Dinner – Catholic College Wodonga 
Emeritus Professor Gillian Triggs – An Australian Bill of Rights.
Saturday
8.00am Registration – Light breakfast available
9.30am Welcome to Country, Mungabareena Dancers
10.00am Madeleine Gleeson – Stepping into the Future
10.30am Workshops – Communities Working Together
Rural Resettlement
Key to successful Campaigning
Welcoming Refugees
Home Hosting
11.00am Morning Tea
11.30am Saba Vasefi – The Challenges Faced by Vulnerable People … sharing the message
11.45am Corinne Grant – Getting a Message Heard … educating the public
12.10 pm Workshops – Effective Use of the Media
Social Media
Media in Regional and Rural Communities
Supportive Communities sharing Knowledge
The Power of Story Telling
1.00pm Lunch
2.00pm Julian Burnside – A Voice for Youth for a Positive Future
2.15 pm   Debate – Secondary Colleges of Albury Wodonga – A Refugee Could be You or Me
Moderated by Julian Burnside

3.15pm Coffee
3.45pm Workshops – Supporting Young Australians
Involving Young Australians
Involving Young Refugees and Asylum Seekers
Youth Campaigning for Change
The Future We Want for Our Kids
4.30pm Report Back
5.30pm Meeting of facilitators to agree on key workshop priorities
6.00pm Casual Meal at College
SUNDAY
8.00am Breakfast and breakfast meetings
Non Violent Action
Discussion on World Refugee Problem and the role of Rural Australia
9.15am A Compassionate Country
9.30am Emeritus Professor Stuart B Hill – Transformational Thinking, Planning for the Future
10.00am Professor Susan York Kneebone – Refugee Settlement
10.30am Coffee
11.00am  Positive Engagement with Politicians
11.30am Summary of Conference and Future Actions – Questions, statements from participants … What we have heard, what we will do
12.30pm Tampa Award
1.00pm Casual lunch
2.30 pm AGM Rural Australians for Refugees
Conference Summary … Next Steps
---
---
KEYNOTE SPEAKERS
Emeritus Professor Gillian Triggs
Gillian Triggs was the President of the Australian Human Rights Commission from 2012-2017.  She has combined an academic career with international commercial legal practice and worked with governments and international organisations advising on human rights law. She is focused on the implementation in Australian law of the human rights treaties to which Australia is a party, and on working with nations in the Asia Pacific region on practical approaches to human rights.
Madeline Gleeson Senior Research Associate
Andrew and Renata Kaldor Centre for
International Refugee Law.

Julian Burnside AO QC
Saba settled in Australia as a refugee after escaping persecution in Iran for her activism against capital punishment.  She uses her artistic and cultural activities to campaign against the death penalty, advance the rights of women and children as well as give a voice to refugees and asylum seekers.
Corinne Grant, lawyer, broadcaster, writer, comedian.
Always committed to social justice, in February 2013, Corinne commenced graduate studies for the Juris Doctor law degree at Melbourne Law School  She is currently working as a lawyer specialising in work related injuries, she is a well known advocate for refugees and asylum seekers.
Professor Stuart Hill
Professor Hill was appointed Foundation Chair of Social Ecology at the University of Western Sydney in 1996 where he taught units on Qualitative Research Methodology, Social Ecology Research, Transformative Learning, Leadership & Change, and Sustainability, Leadership & Change: A Social Ecology Perspective.

Sister Jan Barnett Social Justice Coordinator, Sisters of St Joseph
Sister Jan believes that "All people fleeing persecution have a right to seek asylum, it is legal to do so, and the Australian government has both a legal and moral duty to care for asylum seekers, especially children." Sr Jan will be presenting at the workshop 'Key to Successful Campaigning'.
Professor Susan York Kneebone
Professor Susan Kneebone researches in the area of international migration, nationality and citizenship law, including refugees, statelessness, human trafficking, marriage migration and migrant workers, with particular reference to South East Asia.
Para Paheer and his wife Jayantha.
Fadak Alfayadh
Fadak is a lawyer and a refugee from Iraq. Her community legal work upholds human rights and ensures access to legal services for those marginalised.  Before her current work in community development, Fadak worked in the refugee rights sector.
CONFERENCE ACCOMMODATION
Albury/Wodonga Visitors Information Centre
1300252879
https://www.visitalburywodonga.com
Conference organisers have made arrangements with a number of accommodation providers for conference attendees.
The following organisations are offering accommodation:
The Quest Wodonga
46 Reid Street, Wodonga
(02)60438300
There is a range of rooms from $138 (discount rate) if you say you are attending the RAR Conference
https://www.questwodonga.com.au
Big 4, Borderland Holiday Park
65 McKoy Street, Wodonga. (02)060243926
A range of cabins suitable for groups of up to six as well as caravan and tent sites.
(Discounting depends on numbers in each cabin)
Wodonga Cabin and Caravan Park
186 Melbourne Road, Wodonga (02)60242598
Let them know if you are attending the RAR Conference.  There is a minimum of 2 nights.  There will be no discount unless 10 cabins are booked and the discount will then be granted at the conclusion of your stay.
Billeting
Billeting will be arranged where requested.  This should be done via this website under 'Contact Us' page on this site or email: 
Members from Northern Territory, Western Australia, Queensland and Tasmania are encouraged to apply for billets.  Applications for billets will conclude on March 29, 2018.
Transport
If you are coming by air, train or bus please let us know and we will meet you and transport you to your accommodation.  We will also organise transport to and from the Catholic College.  This should be done via this website under the 'Contact Us'  page  on this site or email: 
Courtesy  of Cook Buses Wodonga/Hertz Wodonga, a FREE 25 SEATER BUS will be available to connect with a limited number of flights to, and departures from, Albury airport.
There may be the occasional wait of around 30 minutes at the airport as a couple of flights come in at slightly staggered times.  Flights 
arriving 
between 
4pm and 8:30pm
 on 
Friday 6/4/18
; 
Saturday
 7/4/18 between 9:30am – 10:00am and 
departing Sunday
 8/4/18 2:30pm – 4:40pm will be catered for.
The bus will drop off at the Quest Wodonga, Wodonga TAFE accommodation, Big 4 Borderland caravan park or in central Wodonga for those staying in alternative accommodation.
The bus will also provide a pick up  from the Wodonga railway station, 3:30 Friday6/4/18 and a Sunday drop off back at the station at 5:15. 
To ease movement to and from the RAR conference venue at the Catholic College Wodonga, the bus will be available to collect and return attendees to and from the above accommodations.
We are endeavouring to provide volunteer drivers to collect from the Albury railway station for 3:11pm XPT train from Sydney.
For your convenience the taxi phone numbers are: Albury taxis 6025 2255; Wodonga taxis 6024 3444.
VOLUNTEERING 
If you would like to provide a  billet, donate or volunteer for the Conference please send a message on the 'Contact Us' page of this site.
Rural Australians making a difference to the lives of refugees & asylum seekers.