Ged Kearney wants more 'humane' policies: 'Getting people off Manus and Nauru needs to be a priority'
Labor's newest MP says constituents 'want to see me argue and work within the party for some change [on asylum policy],
and that is what I will do'
Katherine Murphy – The Guardian – 24 March 2018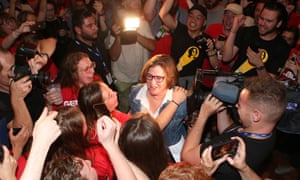 Labor's newest federal MP, Ged Kearney, says she will play a role in Labor's national conference in the middle of this year arguing for a more "humane" policy on asylum seekers and offshore processing.
In an interview with Guardian Australia before her arrival in Canberra on Monday, Kearney acknowledged that some people in her Melbourne electorate of Batman – the seat the former ACTU president held for the ALP in last weekend's by election– would be "on watch" as she made the transition from candidate to her new life as a federal parliamentarian.
Kearney said her constituents "will want to see me argue and work within the party for some change [on asylum policy], and that is what I have promised them, and that is what I will do".
"I think getting people off Manus and Nauru needs to be a priority, and hopefully if Labor is elected that is something we can actually deliver on."
Read full article here