Human Rights Commission pushes back against Peter Dutton bid for more powers
by Paul Karp – The Guardian – 12 May 201
Home affairs minister already has too much discretion over cancellation of visas
and tribunal process should remain, groups say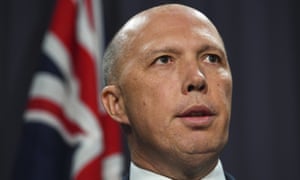 The Human Rights Commission has lobbied against expanding the home affairs minister and department's powers to make visa cancellation decisions without a merits review and even called for them to be wound back.
Parties including the Refugee Council and the Federation of Ethnic Communities' Council have made submissions to a parliamentary inquiry reviewing cancellation of visas on character grounds, warning that Peter Dutton already has too much discretion.
Dutton is on a campaign to expand the powers of the Home Affairs Department to make decisions without review by the administrative appeals tribunal (AAT) on questions of merit, which allows the tribunal to exercise discretion to set aside or vary decisions.
Read the entire article here