Asylum Seekers On Nauru Protest For Fourth Day, After 1000 Days In Detention
Huffington Post – Josh Butler.     24 March 2016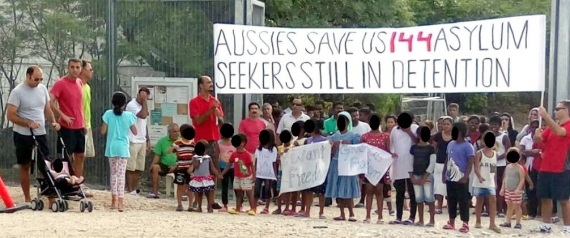 Asylum seekers on Nauru have been protesting for four days, as some of them prepare to mark 1000 days detained in Australian immigration detention on the island nation.
Good Friday will be the 1000th day in detention for some asylum seekers. That's more than two years and nine months.
While a number of asylum seekers have been determined to be genuine refugees and been officially resettled on Nauru — with freedom of movement around the island, an ability to get jobs and start a proper life — many are in limbo, awaiting processing and the determination of their refugee status, and mostly confined to the detention centre on the island. That's what Ian Rintoul, of advocacy group Refugee Action Coalition, told The Huffington Post Australia.
He said "hundreds" of asylum seekers — men, women and children — who haven't had their refugee status determined have been protesting at the gates of the facility for four days, since March 20. Chanting, brandishing hand-painted signs and partially blocking the main gate into their camp, the asylum seekers are calling for faster processing of their refugee applications.
Read the full article here