Echuca Moama RAR
Meets on the 3rd Thursday each month at 7.30pm at the Campaspe Regional Library of Echuca, 31 O'Hare St., Echuca
Missy Higgins lends her voice to Refugee campaign
"As Missy Higgins performed the song, young fans waved signs reading 'Let them stay' — a reference to the 267 asylum seekers in Australia who may be returned to offshore detention camps on Manus Island and Nauru." – – Riverina Herald 24 Feb 2016
—————————–
First RAR meeting at 7.30pm Thursday 18th Feb at St Mary's Parish centre Anstruther St Echuca.
In 2015 our group held a Rally in May for the Rohingya refugees stranded at sea, a candlelight vigil to coincide with international vigils for the European refugee crisis and we have hosted forty seven refugees from the Brigidine Asylum Seeker Project for a weekend.
I was a stranger and you welcomed me…
This Gospel message was powerfully lived out our parish Echuca last weekend as hosted a group of refugee guests. People opened their homes, they provided food, they served and cleaned and made donations, in short they served those who could easily be seen to be 'last' among us. Our guests were so happy to make their first trip out of Melbourne after arriving some years ago. They delighted in the hospitality extended to them but mostly they delighted in the connections that they made with 'real Australian people'. One guest expressed this powerfully when he ex-plained that their children will never know a grandfather, they will never know an aunt or an uncle but for just a few days they experienced what it would be like to have an extended family and for that he gave thanks. For the hosts, there was such joy in providing simple delights that we take for granted, a country sunrise, a rose garden, a dog to play with. As we served we were enriched and reminded to count our blessings.
Parishioners were involved on many different levels. Thank you to the host families, to those who provided food, those who helped with preparation and serving, those who brought us car seats and porta cots, and those who made donations. We easily covered the cost of the paddle steamer rides and food and have almost covered the cost of the train fares (any further contributions would enable us to repay the Brigidine sisters for the tickets). Special thanks is extended to the Morris family for their extraordinary hospitality and to Margaret Spedding for a marathon at the parish Centre.
The Parish Centre was abuzz on Saturday evening, there was an atmosphere of joy and a tangible feeling of God's love shared among strangers who were made wel-come.
A text message sent in thanks from one guest sums up the weekend: "Hi, you all did inestimable stuff which I am quite sure came through your hearts… we just arrived in Melbourne with unforgettable memories of your community. God bless you and your people".
Thank you to all who contributed to the success of this weekend.
The Members of the Social Justice Team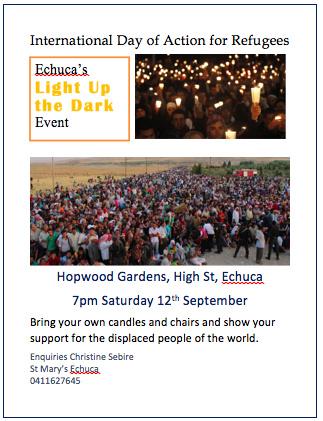 In Sept we held a vigil to support the displaced people of the world.
For further information, contact or 
Return to list of RAR Groups in Victoria
« Return to list of
RAR Groups