'They are breaking him': the stateless refugee Australia may never release
Akam* has not known a day of liberty since arriving on Christmas Island in 2013 aged 16
Ben Doherty – The Guardian – 4 July 2018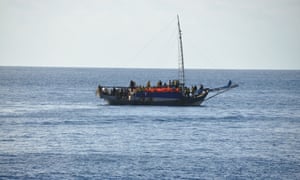 On the quiet shores of an Indonesian island half a decade ago, Gulistan* packed her young son into a leaky boat for the journey over the horizon to Australia: seeking a place, finally, they might call home.
Gulistan and her 16-year-old son, Akam*, had been running months already, having fled Iran, where their ethnic minority, the Faili Kurds, have faced generations of systematic and unremitting persecution.
In Iran, Faili Kurds are regarded as Iraqi interlopers, forced over the border by Saddam Hussein's Ba'athist regime, and left isolated by the brutal war between the two countries in the 1980s. In the decades since, many Faili have eked out an existence at the margins of Iranian society – denied citizenship or basic human rights, healthcare or education.
The precariousness of Gulistan's family's situation was compounded by her son suffering a developmental disorder, and mental health issues exacerbated by the trauma of his father's death. The family lost its "white" Amayesh card, a system of refugee registration in Iran, and with it the precious few rights they held.
As the net of Iran's security forces closed around her family, Gulistan sought sanctuary for herself and her son elsewhere, a promise offered by a people smuggler's boat to Australia.
After days at sea, they arrived on Christmas Island on 25 August 2013. Since that day, Akam has not known a day of liberty, and he faces the possibility of never being released, despite facing no criminal charges.
Read full article here
The commonwealth ombudsman has written three reports on Akam's incarceration, telling the Australian government a solution must be found – in increasingly frank terms.
"The ombudsman notes with concern the government's duty of care to detainees and the serious risk to physical and mental health prolonged immigration detention may pose."
Read full article here